Why should the touch screen ordering system be installed only inside t…
페이지 정보

작성자
ITGO
댓글
0건
조회
620회
작성일

20-10-16 15:05
본문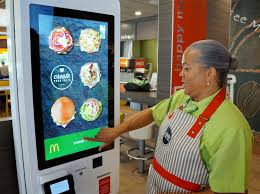 In recent years, the market for touch screen ordering systems has been introduced in many areas such as restaurants like McDonald, and Subway, coffee shops like Starbucks, cinemas, hotels,  and even airports for ticketing.
Such systems are introduced because of the need by increasing the number of full-time employees, rising the minimum wages, differentiated services based on customers, and increasing turnover.
In particular, the introduction of the self-ordering system in the QSR (Quick Service Restaurant) area is on the rise. Typical examples are McDonald's, Starbucks or Subway in U.S and Lotteria in South Korea.
However, despite these market demands, there are some disappointing points.
Most of these systems are operated in the inside of the store or inside the room, so users have to go into the room and have to order them, which is a hindrance to the expansion of related industries..
For example, it is time to think about expanding the usability and conveni

ence of the store space by installing the entrance outside the store.